Recognition continues for outstanding interior design, merchandising and marketing as Rita Williams' Merchandising Plus captured a prestigious Best 50+ Housing Award during the NAHB International Builders Show in Orlando.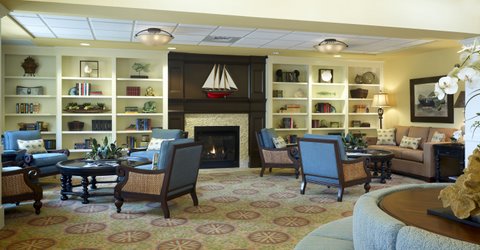 The National Association of Home Builders' (NAHB) has announced Rita Williams' Merchandising Plus a Silver winner in the Best of 50+ Housing Awards, which honor excellence and innovation in the design, development and marketing of housing for older consumers.  
Brighton Bay was honored with the annual award for Best Indoor Common Use Space, considered a showcase of the latest trends in active adult and service-enhanced housing.
The Best of 50+ Housing Awards judges recognized 112 entries in more than 50 categories with best innovations and quality building techniques as Silver Award winners.
"What's really impressive about today's 50+ housing is the wide variety of choices available–it's definitely not your father's retirement community anymore," said Williams. "This year's finalists include everything from urban high-rises to small village settings as well as developments that encourage intergenerational living and communities where residents can age in place."
Brighton Bay is Jacksonville's newest resort style retirement community. Wellgate Communities by Ohio-based Miller-Valentine Group developed the spectacular $30 million residences and amenities over the course of two years.
Their resident centric approach combined with a beautifully appointed building is making quite a splash in the Jacksonville market. The community has 185 wonderfully appointed suites, provides its residents with completely maintenance free living and is conveniently located less than a mile from 9A on Sweetwater Parkway.
Merchandising Plus is no stranger to being recognized with national, regional, state and local awards for creative, innovative and marketable residential and commercial projects.
Williams is a veteran Northeast Florida interior merchandiser that works throughout the United States just completing projects in Minnesota, Arizona, Georgia, California and Hawaii.
Williams was inducted into the Florida Housing Hall of Fame in 2003. She is a veteran Northeast Florida interior merchandiser. She is a life director member of the NEFBA Board of Directors and the Florida Homebuilders Association.
# # #